Helicopter Support for Offshore Operations
Helicopter Facilitated Oil And Gas Transport Solutions

Helicopter Support for Offshore Operations

Helicopter Facilitated Oil And Gas Transport Solutions
We excel and exceed expectations in offshore helicopter operations
Call FairLifts at 1-800-318-8940 now!
Helicopters have been providing support for the offshore gas and oil industry since 1947, performing tasks that include everything from the construction of platforms to transport of employees, cargo, and parts.
There are oil and gas rigs all around the world, and developers discover new sites regularly. Most recently there have been major discoveries in Cyprus, Norway, the U.S., and Guyana. The North Sea, which provides the United Kingdom and northern Europe with access to oil and gas products, is the largest offshore market in the world. The Gulf of Mexico, which provides much of North America's access to oil and gas, is in a transitional state, moving from shallow to deepwater drilling.
Offshore Salvage Recovery
Whether it's an old piece of equipment, an aircraft that has gone down in a remote area or an abandoned vessel, helicopters are often used to salvage the equipment/object before it is lost to the environment or becomes a safety hazard to other travelers. It takes a helicopter with versatility, power, and stamina to spend hours traveling over water to reach an offshore salvage site. Popular helicopters for salvage missions include the Boeing CH-47D and the Erickson S-64, both heavy-lift vehicles that are capable of making long flights.
---
The development of wind turbine farms is expanding along with the global demand for alternative energy sources beyond petroleum and natural gas. Data provided by the Office of Energy Efficiency and Renewable Energy suggests that offshore wind farms located near high-density population centers could generate more than twice the combined capacity currently being generated by all U.S. electric power plants. The Block Island Wind Farm off the coast of Rhode Island is the country's first offshore wind farm, providing a capacity of 30MW.
If you need an offshore helicopter quote fast...
Call FairLifts at 1-800-318-8940 now!
Helicopters and their Use in the Industry
Due to the remote location of offshore wind farms and oil/gas platforms, helicopters have an important role in keeping the industry afloat. They have the speed, maneuverability, power, and flexibility to provide a variety of services to personnel who work at these distant platforms, including:
This includes parts that are needed for making repairs, office supplies that employees might need, and new equipment that requires installation.
---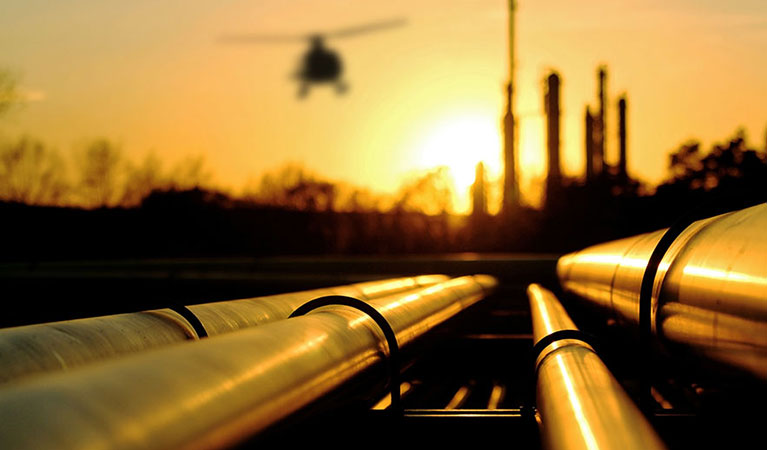 In order to inspect lines that have already been constructed, helicopters follow the layout and note areas that may contain leaks or weak spots.
---
When the need arises for inspectors, supervisors, and other personnel to visit turbines or platforms, helicopters are a quick way to transport them.
In the event of an emergency, helicopters take part in SAR missions and medical evacuations. They are often deployed in the case of a man falling overboard or if there is a medical emergency onboard.
Ships in close proximity to an oil/gas platform or wind farm often need assistance that necessitates quick action, whether it is the delivery of an important piece of equipment or the need for a medical evacuation.
---
Hauling equipment and parts
When something breaks down on a platform, it is vital to get it fixed as quickly as possible - the same day if you work with experts at FairLifts.
Construction of new pipelines, drilling rigs, platforms, and turbines
As new sources are discovered, developers and others involved in the industry need to construct a drilling rig quickly in order to take advantage of the new location. Helicopters can transport equipment used to build the drilling rig, turbine, or floating platform.
Helicopters Commonly Used in Offshore Operations
FairLifts Offshore Operations utilizes a variety of helicopter styles and models, from the light-duty Bell 206 and EC120 to medium and heavy-duty helicopters like the Bell 212, and Sikorsky Sky Crane, among others. Larger helicopters are equipped to handle loads up to 25,000 pounds and have a capacity to hold up to 19 passengers. In addition, they often have extra safety features like collision avoidance system (TCAS) and an emergency locator transmitter. In offshore operations, larger helicopters have the benefit of transporting large loads across vast distances. The H175 can travel more than 250 miles on one tank of fuel. Some of the other benefits of using helicopters in the offshore energy industry include:
Maneuverability to fit into small, confined spaces and the ability to hover in one location
The power that allows helicopters can transport heavy parts and equipment over long distances
Sturdy construction that uses composite materials, which are less prone to corrosion from the constant proximity of water
The stamina of larger helicopters that can run more than five hours in adverse weather conditions without the need to refuel
Flexibility in design and function between different helicopters, they can be deployed quickly and equipped with extra features like a hoist or weather radar
The Right Helicopter for the Job
In efforts to highlight FairLifts standard of safety, we will touch upon the various types of helicopter aircraft used in the conduction of offshore operations. As a result of the aforementioned relationships we have worked diligently to establish, FairLifts delivers an array of helicopter-related alternatives. Currently, there are hundreds of helicopters employed in undertakings for the oil and gas production industry in the Gulf of Mexico. Most are FAA Part 135 compliant for in-flight operations of offshore missions, which means they are limited in the number of hours they can safely be utilized inflight The helicopters generally used for open water and Gulf coast operations are turbine powered and a great majority of them are smaller aircraft that are VFR capable. A select few are medium to heavy aircraft and are IFR capable. A few of the specific model types clients may have access to are single pilot Bell models 206 and 407, Twin-Stars, A-Stars, and EC120s. Medium to heavy aircraft are dual piloted and may include Bell models 212 and 412, Sikorsky S-76s, Bell 214STs, and S-61s, respectively. Each helicopter is expertly maintained, are day and/or night instrument flight capable, and are outfitted with emergency flotation for added safety and reliability.
Get the offshore helicopter commercial lifts and charters you need
Call FairLifts at 1-800-318-8940 now!
FairLifts is working hard to serve offshore platforms from the following cities along the Gulf of Mexico:
Galliano, LA - Galveston, TX - Gulf Shores, AL - Gulfport, MS - Houma, LA - Lafayette, LA - Lake Charles, LA - Mobile, AL - Morgan City, LA - Pascagoula, MS - Port Arthur, TX
Call FairLifts at 1-800-318-8940 now!