Helicopter Lineman Duties
It is no surprise or a new piece of information that electric lines can put out high voltage. The amount of voltage is oftentimes dangerous if not even deadly. Maintaining these lines is necessary to ensure that they keep working properly and to help keep those around the power lines safe. This is where helicopter lineman come into play. A helicopter power line worker inspects the power lines to make sure they are working properly, to repair lines that are damaged, and to assist in stringing wire.
Power line inspection by helicopter provides advantages over using ground methods. For one, going through the air decreases the amount of time it takes to inspect lines — helicopters can monitor power lines more quickly and more effectively than using traditional ground methods. Another advantage helicopter linemen provide is that fewer workers are needed to perform the same operations. Thirdly, aerial surveillance of lines is an advantage in difficult to reach areas, whether the ground is uneven or hard to get to or because the lines are at a higher altitude. Overall, through the air it is possible to work faster and more effectively and to monitor difficult to reach locations. This can be done with a wide variety of helicopters.
---
Get to the choppa! Aerial Linemen standing by!
Give us a call at 1-800-318-8940 now!
Helicopters Used by Helicopter Lineman
Three helicopters often used to perform power line inspections are the MD 500D, the MD 530-FF, and the Eurocopter AS-350. Each helicopter is designed to carry out a certain job and has helped helicopter power line workers complete their jobs.
The MD 500D is considered a light service helicopter and has been in service since 1982. This helicopter can help with pulling and in stringing electrical wire. Over 4,700 of these helicopters have been built.
The MD 530-FF is similar to the MD 500D in that it was developed similarly and derived from the previous model. Unlike the 500D, the MD 530-FF is built to perform in stressful circumstances. Think of the MD 530-FF as the 500D's big brother. The MD 530-FF has a 650 horsepower engine. With bigger tail motor blades, this helicopter is designed to help helicopter lineman in more extreme conditions, such as in higher temperatures and at higher altitudes.
The Eurocopter AS-350 is designed for longer operations, capable of traveling for longer distances and seating up to five passengers. Around 3,590 of these helicopters have been built in a few different models. One of these helicopters, the AS-350 B3, even landed on Mount Everest in 2005, at a elevation of around 29,000 feet.
Helicopter Power Line Tasks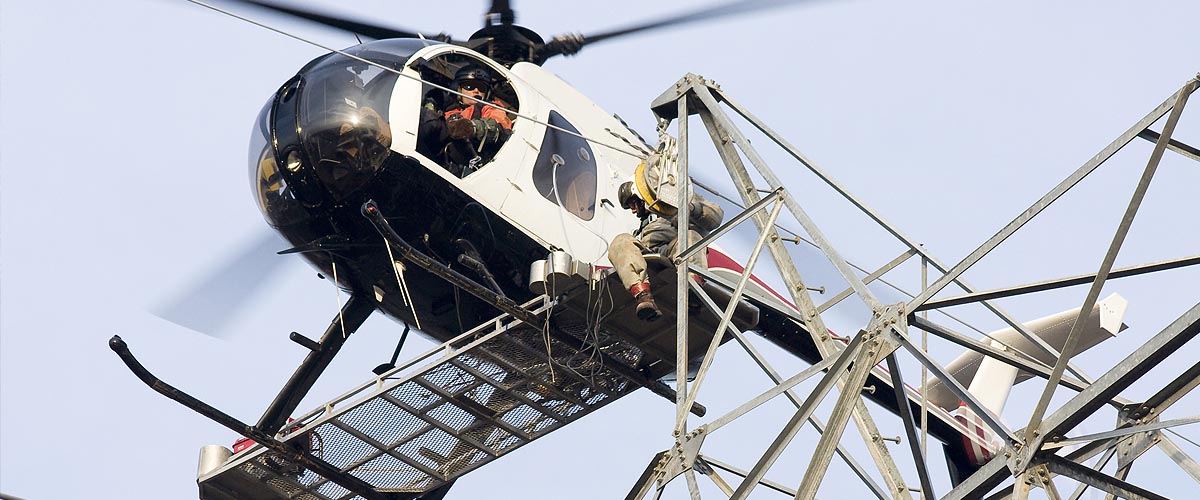 Helicopter lineman can inspect electric lines almost anywhere, across the country and in any state.
Infrared systems
can also be used to produce further information on the lines. Power line inspection can be performed by power line workers patrolling the line to ensure the electric wires are undamaged.
If a line is damaged, a helicopter power line worker can perform maintenance work on the line. When compared to other methods of repairing power lines, using a helicopter can be safer and more efficient. Helicopters are also capable of performing some of the heavy lifting involved in the repair process that helps bring materials with accuracy and precision to where they are needed.
Helicopter lineman can string wire by using a helicopter almost anywhere. Sometimes a ground crew can have difficulties in difficult-to-reach areas. Helicopters can operate almost anywhere, from densely populated to extremely rural and rough terrain. The best part about this method is that nobody on the ground gets disturbed by putting up the wires.
---
Call 1-800-318-8940 to Speak with Our Team!