Helicopter Support for Mining Operations and Exploration in Tennessee
Drill Rig Support - Mineral Surveys - Rehabilitation - Personnel Transport
Helicopter Support for Mining Operations and Exploration in Tennessee
Drill Rig Support - Mineral Surveys - Rehabilitation - Personnel Transport
Need helicopter mining assistance
Call FairLifts at 1-800-318-8940 now!
Mining Operations Aerial Assistance in Tennessee
FairLifts proudly arranges helicopter services to benefit mining operations throughout the state of Tennessee. Helicopters can benefit mining operations in Tennessee in many different ways. A helicopter can help support any drill or rig operations, can help in mapping out and exploring new areas, and can help transport personnel to difficult to reach areas. In addition, a helicopter can also help with any lifting you need and fly in a exact manner helping you perform tasks quicker than through other methods.
Tennessee Mining Operation
Tennessee is a rich place for mining. Minerals alone contributed $1.268 billion in 2016. The year before it was estimated around 28,000 jobs were in mining. The good news is mining has been a rich part of Tennessee's history, dating back to the 18th century. Many of the mines in Tennessee are non-fuel related and include the mining of stone, zinc, cement, clay, and sand and gravel. These contributed to 95 percent of all that was mined in the state in 2016.
A helicopter can assist in finding new areas to mine in Tennessee so these amazing numbers can continue and even be improved upon.
Get your complimentary helicopter mining service quote today
Call FairLifts at 1-800-318-8940 now!
Tennessee Mining Operation Helicopter Services
If you are looking for a helicopter mining service in Tennessee, FairLifts has you covered. Helicopter provide efficient and safe mining services to improve any mining operation. FairLifts arranges a variety of services including mapping our new areas to mine, helping with personnel transportation, and providing support to drilling and rigging efforts.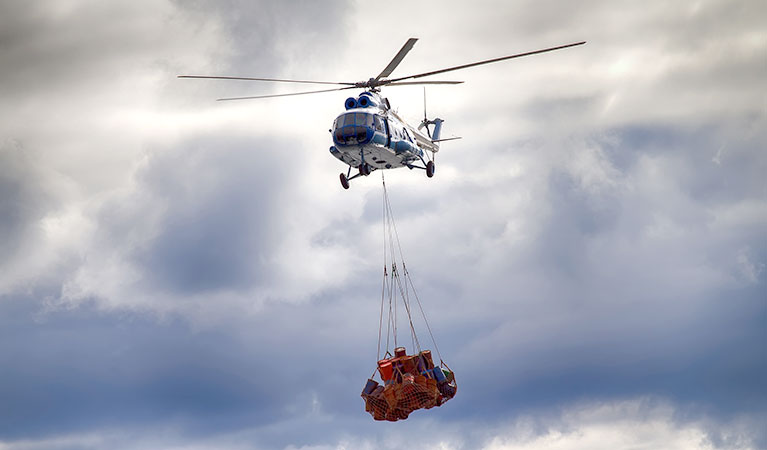 Mining and Drill Rig Support
A helicopter can help you get exactly what you need to any mining ability. A helicopter offers precise flying ability which means even if you need transportation to a difficult to reach location or an offshore location. FairLifts can arrange the transportation of portable rigs, assist with resupplying, and medical transportation services.
---
Mineral Exploration and Mapping
Sometimes it is good to explore new areas to mine. The aerial view a helicopter offers can make this simpler than if you were to search for mineral rich areas on the ground. With today's technology, a helicopter can highlight mineral rich areas and provide other geological information.
Mine Rehabilitation and Reseeding
Sometimes mining can be harsh on an area, destroying vegetation. The good news is a helicopter can assist in repairing this damage and can help reseeding efforts in land restoration. A helicopter is efficient in this process and performs reseeding and rehabilitation quickly to help restore the environment.
---
A helicopter's precise flying ability sets it apart from other transportation methods. A helicopter can help your mining operations by supplying necessary crew members to an exact location quickly, saving time and avoiding hard to manage terrain—providing a convenient method for transporting crew members.
Let FairLifts covering your aerial mining needs
Call FairLifts at 1-800-318-8940 now!
FairLifts Can Help Your Tennessee Mining Operation Today
FairLifts arranges helicopter services and would love to help out your mining operation anywhere in the state of Tennessee. FairLifts partners with the best pilots around who use up to date technology to bring you the aerial mining assistance you need. Reach out to us by speaking with a member of our staff. If you have any questions, do not hesitate to call us. We answer calls 24/7 and would love to get you started on helicopter mining quote.
We work hard to provide helicopter solutions for mining operations near all of these Tennessee municipalities:
Alamo - Altamont - Ashland City - Athens - Benton - Blountville - Bolivar - Brownsville - Byrdstown - Camden - Carthage - Celina - Centerville - Charlotte - Chattanooga - Clarksville - Cleveland - Clinton - Columbia - Cookeville - Covington - Crossville - Dandridge - Dayton - Decatur - Decaturville - Dover - Dresden - Dunlap - Dyersburg - Elizabethton - Erin - Erwin - Fayetteville - Franklin - Gainesboro - Gallatin - Greeneville - Hartsville - Henderson - Hohenwald - Huntingdon - Huntsville - Jacksboro - Jackson - Jamestown - Jasper - Jonesborough - Kingston - Knoxville - Lafayette - Lawrenceburg - Lebanon - Lewisburg - Lexington - Linden - Livingston - Loudon - Lynchburg - Madisonville - Manchester - Maryville - Maynardville - McMinnville - Memphis - Morristown - Mountain City - Murfreesboro - Nashville - Newport - Paris - Pikeville - Pulaski - Ripley - Rogersville - Rutledge - Savannah - Selmer - Sevierville - Shelbyville - Smithville - Sneedville - Somerville - Sparta - Spencer - Springfield - Tazewell - Tiptonville - Trenton - Union City - Wartburg - Waverly - Waynesboro - Winchester - Woodbury