Helicopter Support for Mining Operations and Exploration in Wyoming
Drill Rig Support - Mineral Surveys - Rehabilitation - Personnel Transport
Helicopter Support for Mining Operations and Exploration in Wyoming
Drill Rig Support - Mineral Surveys - Rehabilitation - Personnel Transport
Schedule expert helicopter mining operations support in Wyoming
Call FairLifts at 1-800-318-8940 now!
Skilled Helicopter Mining Operations Support in Wyoming
FairLifts, working with an experienced network of helicopter operators, provides skilled helicopter assistance for mining operations support in Wyoming, enabling access to remote mine sites, transport of critical cargo, equipment, and crews, as well as urgent medical assistance in the event of an emergency.
We also schedule helicopter replacement service to transport necessary machinery and parts in the event of a breakdown in order to ensure continuing mining operations, and to safely transport of valuable mining products.
Wyoming Mining in the Cowboy State
Wyoming produces 316 million short tons of coal, approximately 41 percent of all US coal production. Wyoming's large surface coal mines are the most efficient in the country, with an average recovery factor of 92 percent. The average production of coal per employee is 25.7 short tons per hour, the highest productivity in the nation. Ten coal companies operate 16 coal mines, located in three Wyoming counties: Campbell, Lincoln, and Sweetwater. Fifteen of the mines extract coal using surface mining techniques, and one underground mine operates in Sweetwater County. Wyoming also produces a substantial amount of Industrial minerals such as bentonite, gypsum, aggregate, crushed stone, chemical-grade limestone, decorative stone, and trona. The state's trona resources, an estimated 127 billion tons, are the largest in the world. Wyoming also produces diamonds, jade, iolite, agates, and petrified wood, which have attracted global commercial interests.
Arrange critical helicopter mining operations support
Call FairLifts at 1-800-318-8940 now!
Wyoming Helicopter Mining Operations Support Services
In Wyoming, skilled helicopter mining operations support provides invaluable assistance for mine rehabilitation/reseeding, mining and drill rig support, mineral exploration and mapping, and personnel transportation. Helicopter mining operations support affords speed and efficiency by moving items on board or with the use of a sling. The following are some of the mining operations support services that FairLifts coordinates in the state of Wyoming: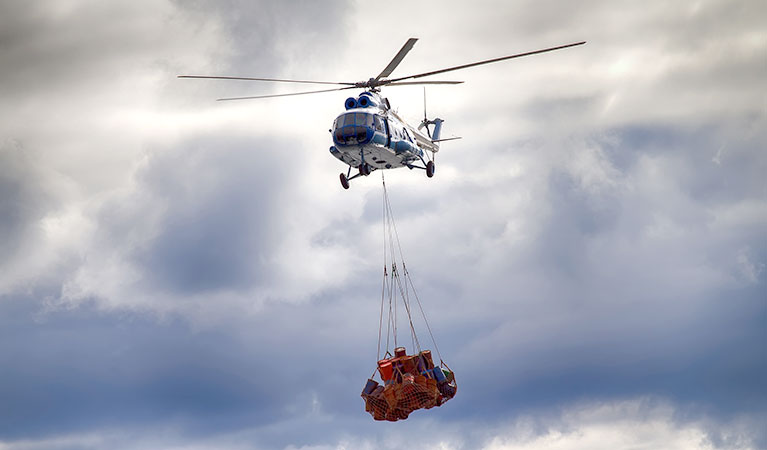 Mining and Drill Rig Support
FairLifts schedules mining and drill rig support, bringing drills to mining sites by light to intermediate lift helicopters. Using certified equipment, expert precision long line pilots provide rig resupply, moves, and drill site surveys to ensure drill rig support solutions for protected load delivery.
---
Mineral Exploration and Mapping
FairLifts plans mineral exploration and mapping using high-frequency electromagnetic sensing techniques devised to detect geological areas with mineral mining potential. Skilled pilots, operating advanced aircraft, can fly or hover at low altitudes to capture detailed survey maps of geographical areas.
Mine Rehabilitation and Reseeding
FairLifts arranges mine rehabilitation/reseeding support evenly distribute seeds in order to decrease erosion and prevent the appearance of hostile plants. Trained pilots provide previse and affordable aerial seeding to rehabilitate mine sites in inaccessible, rocky or elevated areas of the state.
---
FairLifts facilitates trained pilots and skilled mining crew transportation, including regular and intermittent transportation to and from remote mine sites for shift changes, executive tours, and crew deployment for drilling, high demand or emergency situations.
For more information, pricing or project planning for mining operations helicopter support in Wyoming
Call FairLifts at 1-800-318-8940 now!
FairLifts Can Help Your Wyoming Mining Operation Today
Our team of knowledgeable account managers are available 24/7 to provide planning, pricing, and information regarding mining support for mining companies to ensure convenient and cost-effective solutions for vital mining operations in the state of Wyoming.
We work hard to provide helicopter solutions for mining operations near all of these Wyoming municipalities:
Buffalo - Casper - Cheyenne - Cody - Douglas - Evanston - Gillette - Green River - Jackson - Lander - Laramie - Newcastle - Powell - Rawlins - Riverton - Rock Springs - Sheridan - Torrington - Wheatland - Worland