New York City Helicopter Lift Solutions
Safe, Effective, and Accurate.

New York City Helicopter Lift Estimates!
Call FairLifts at
1-800-318-8940 now!
Call FairLifts at 1-800-318-8940 now!
New York City Helicopter Lift Solutions
FairLifts is a full-service provider of heavy lift helicopter services. From HVAC and adapter curve replacement to utility transmission line construction and repair, there is no New York City Helicopter Lift job that FairLifts can't manage. We excel at planning the logistics of long line external-load projects and we offer fast, free quotes on any job. We not only strive to serve the residents of New York City but also wish to establish ourselves as a global leader in arranging the safest, most effective, accurate, and timely helicopter lift solutions anywhere.
We work within a number of industries from construction all the way to medical services. Our agents are committed to the pursuit of organizing a variety of external load and heavy-lift helicopter solutions from the complex, like transport of fuel products, to setting pipeline for utilities, all the way to simply placing an object atop a building for aesthetic intents. The point is, regardless of the need, the industry, or the location; we can arrange to have the service facilitated in no time and with precision.
If you need a heavy lift construction helicopter quote fast...
Call FairLifts at
1-800-318-8940 now!
Call FairLifts at 1-800-318-8940 now!
Supplying New York City with the helicopter lifts it needs!
New York City is used to the sight of helicopters, from those used in private charters for big execs visiting the assistance provided by helicopters to the NYPD. But helicopter lifts prove to be one more fantastic resource for construction companies as well as for utility surveying, giving those companies on the ground an eye in the sky. While we are all used to observing big cranes that tower over some of the smaller buildings in downtown, many companies are choosing the convenience of helicopter lifting for projects such as the lifting of HVAC units and solar panels on some of the taller structures around the Big Apple.
Helicopters, unlike planes, have the ability to lower a line among closely setting buildings and lift with more precision large units of materials to their places while mitigating the risk of workers on tall cranes. This is extremely convenient as well as cost-efficient, after all, who wants to wait for materials to be delivered from the busy Bronx Expressway? When needed, helicopters can hover for long periods of time, making lowering workers to do jobs on the sides of tall buildings easier as well.
FairLifts, versatility is our middle name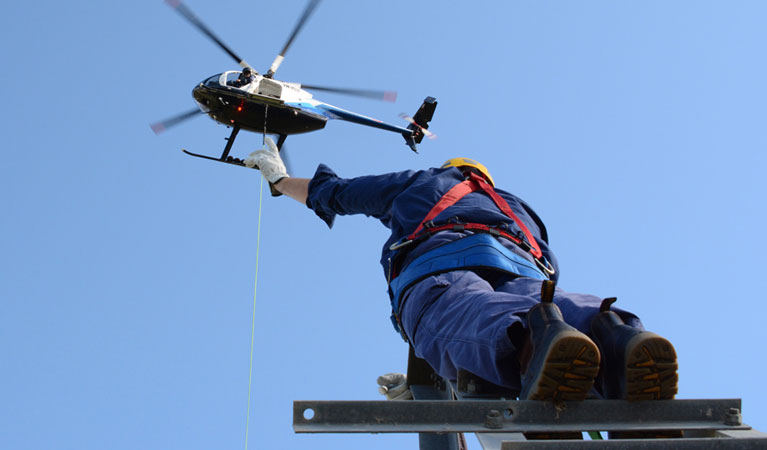 The professional helicopter lift facilitators we work alongside or introduce our clients to have an expansive repertoire with respect to helicopter services. There is really not much they cannot do. We have taken this opportunity to create a catalog of services to provide a little insight into some of the most popular air crane service and external load operations we organize for our clientele.
Construction Helicopter Services
These types of services are utilized in a number of ways. For example, removal or installation of HVAC units, external load placement of concrete items or pipelines, power line poles and antenna, conveyance of pieces of equipment for construction assemblage, transportation of airfreight, oil, and gas industry support plus so much more.
---
New York City Heavy Lift Helicopters
Capable of conveying large pieces of equipment weighing over 2500 lbs as well as in rooftop installations and precision placements. These heavy-lift helicopters can also help with power line or utility installations, aircraft recovery, engineering, and assemblage of structures as well as towers and antenna.
Freight or Sensitive Materials
These particular services see multiple factors at play. The process generally progresses as follows; the ground crew helps to safely and effectively load airfreight, ensures the requisite paperwork has been established in order to commence the freight's travel, safely transports the freight, and assists in the offloading.
For sensitive material transport, extreme caution is always practiced. Sensitive materials are discreetly and safely transported to their final destination. Experienced crews who work within the sensitive or hazardous materials transportation realms then offload them.
---
Heli-logging, utility and emergency services
We can organize heli-logging capabilities for our clients for the pursuits of timber harvesting as well as forestry sustenance efforts. The process local operators use makes every attempt to decrease harvesting emissions and decrease the timber harvesting carbon footprint.
Eco-friendly helicopter solutions are carried on through to our rapport with emergency services operators who assist in the restoration of particular regions following natural disasters or wildfires. These operators are capable of managing firefighting, recovery, and salvage efforts as well.
Speak with the Experts About New York City Helicopter Lift Solutions!
Call FairLifts at 1-800-318-8940 now!
Call FairLifts at
1-800-318-8940 now!
---
Learn more about helicopter lift services or get a complimentary price estimate
Dial 1-800-318-8940 Today!
---
Safe, simple, and reliable helicopter lift solutions
The aforementioned services are a small picture of the expansive list of helicopter lift solutions we can organize for our clientele. With heavy lift capable helicopters, experienced pilots, and expert ground crews, local operators have every angle covered with respect to successfully managing your helicopter solutions requisite. It is simple; all you need to do is call to get the ball rolling. We can deliver accurate price quotes, respond to questions regarding service specifics, and reserve your helicopter solution, plus more when you contact our agents.
Call FairLifts at
1-800-318-8940 now!
Call FairLifts at 1-800-318-8940 now!
---
Contact FairLifts
Helicopters New York City
If you are ready to start the reservation process or just need some more information specific to a particular service, reach out and contact FairLifts through our customer support.
Call FairLifts at
1-800-318-8940 now!
Call FairLifts at 1-800-318-8940 now!
---
---
FairLifts New York City Helicopter Lift Services proudly serves New York City, New York, and the following surrounding cities:
Hoboken, NJ - Jersey City, NJ - Weehawken, NJ - Union City, NJ - West New York, NJ - Guttenberg, NJ - Secaucus, NJ - North Bergen, NJ - Bayonne, NJ - Fairview, NJ - Cliffside Park, NJ - Edgewater, NJ - Harrison, NJ - Kearny, NJ - Ridgefield, NJ - Tribeca, NY - Five Points, NY - Governor Alfred E Smith Houses, NY - Battery Park City, NY - Chinatown, NY - Knickerbocker Village, NY - Little Italy, NY - Soho, NY - Hester - Allen Turnkey Housing, NY - University Village, NY - Greenwich Village, NY - Lower East Side, NY - Washington Square Village, NY - Henry Street Settlement, NY - Amalgamated Dwellings, NY - Hillman Housing, NY - West Village Houses, NY